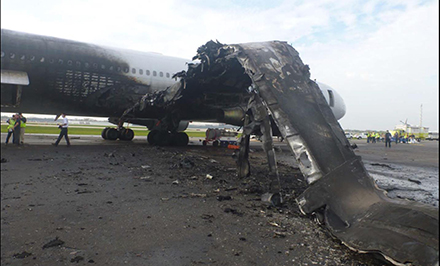 Air carriers should be required to develop or revise emergency checklist procedures for dealing with engine fires on the ground to quickly address the fire hazard and evacuate the airplane, the U.S. National Transportation Safety Board (NTSB) says.
The safety recommendation to the U.S. Federal Aviation Administration (FAA) was one of nine recommendations issued earlier this week as a result of the NTSB's investigation of an Oct. 28, 2016, uncontained engine failure and subsequent fire in an American Airlines Boeing 767 during its takeoff ground roll at O'Hare International Airport in Chicago.
The flight crew rejected the takeoff and stopped the airplane on the runway. One of the 170 passengers and crewmembers was seriously injured during the subsequent emergency evacuation, and 20 people received minor injuries. The airplane was substantially damaged.
The NTSB said last week that the probable cause of the accident was the failure of the high-pressure turbine (HPT) stage 2 disk, which "severed the main engine fuel feed line and breached the right main wing fuel tank, releasing fuel that resulted in a fire on the right side of the airplane."
The HPT stage 2 disk failure followed the formation of fatigue cracks resulting from a manufacturing anomaly that probably was not detectable during inspections using the procedures in place at the time, the NTSB said.
Other recommendations to the FAA called for creating an industry group to evaluate current inspection technologies for nickel-alloy applications, requiring subsurface in-service inspection techniques for certain engine parts, and reviewing crew training programs that deal with assessing exits and handling interphone systems.
Recommendations also included a call for Boeing to work with operators on emergency checklist procedures to be used in case of an engine fire on the ground, and for American Airlines to review existing engine fire checklists and make necessary changes.
Photo credit: NTSB