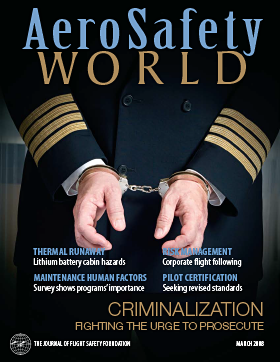 Entire Issue
AeroSafety World March 2008 68 pages. [PDF 5.6M]
Features
Deterring Criminalization 6 pages. [PDF 347K]
Aviation safety leaders face a growing challenge in dissuading prosecutors from filing criminal charges against pilots, controllers and others involved in aircraft accidents.
Real Time Risk Management 5 pages. [PDF 403K]
A major opportunity to improve safety.
Quality Control for Pilots 5 pages. [PDF 357K]
An independent organization aims to set high, industrywide standards for new pilots.
Close Call in Khartoum 5 pages. [PDF 364K]
Confusion reigned when an A321 was flown below minimums in a sandstorm.
Human Factors in Maintenance 7 pages. [PDF 701K]
Surveys reveal the importance of regulations mandating human factors programs.
Thermal Runaway 7 pages. [PDF 440K]
New guidance for extinguishing lithium-battery fires is on the way.
Departments
President's Message | Keeping it Credible [PDF 88K]
Editorial Page | Lingering Pain [PDF 70K]
Safety Calendar | Industry Events [PDF 77K]
In Brief | Safety News [PDF 164K]
Data Link | Kiwi Count [PDF 423K]
Info Scan | Traffic Jam [PDF 152K]
On Record | Runway Deficit [PDF 292K]