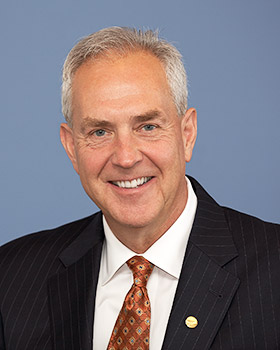 Welcome to Dublin and the Foundation's 70th annual International Air Safety Summit (IASS).
Since 1947, the Foundation has hosted an annual international safety event at which the industry's brightest safety minds have met to exchange information, identify emerging safety threats and discuss new ways to further reduce risk in aviation. This year will be no exception. We have a packed, three-day agenda covering a broad swath of safety topics, but we also have managed to build in time for networking, fun and perhaps a little relaxation.
I am especially pleased to welcome Willie Walsh, chief executive of International Airlines Group, as our keynote speaker. Willie, who launched his aviation career as a cadet pilot with Aer Lingus in 1979, is widely recognized as one of the airline industry's leading executives. I'm looking forward to his remarks.
Of course, IASS would not be possible with the support of our sponsors and exhibitors. A special thanks goes to Capt. Conor Nolan and everyone at host sponsor Aer Lingus who have worked so hard to make IASS 2017 a success. Please make sure to visit all of our exhibitors and let them know you appreciate their support.
Thanks also to our extraordinary lineup of speakers and panelists for taking time out of their busy schedules to be with us and to offer their valuable insights into risk identification and mitigation. History has shown repeatedly that it is the collective effort of all of us that makes the industry as safe as it is today, and will ensure its safety in the future.
I want to thank Ken Hylander, the outgoing chairman of the Foundation's Board of Governors, for all of his hard work, leadership and support. Ken's steady hand on the tiller and knowledge of the industry have helped lead the Foundation through a period of transition that positions us well for the future. Fortunately for the industry, Ken intends to remain active with the Foundation and with his other safety-related endeavors.
At the same time, I want to welcome our incoming Board chairman, John Hamilton, who is vice president of engineering at The Boeing Co. John has been on the Board for several years now, and we all are looking forward to working with him even more closely.