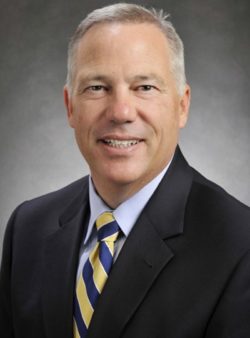 DUBLIN, Ireland — John Hamilton, vice president of engineering, Boeing Commercial Airplanes, is the new chairman of Flight Safety Foundation's Board of Governors. He succeeds Kenneth J. Hylander, whose term as chair ended with Sunday's Board meeting in Dublin, site of the Foundation's 70th annual International Air Safety Summit (IASS).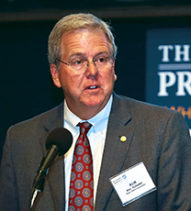 Hylander, a long-time airline executive who retired from Delta Air Lines as senior vice president — corporate safety, security and compliance, served a three-year term as chairman and will remain on the board.
"It has been my honor to serve as chairman of the Board of Governors for the past three years," said Hylander. "The Foundation has a proud 70-year history of enabling safety improvements across the globe, and I am proud to have been a small part of that tradition. All those who fly are benefiting from the Foundation's tireless efforts in many aviation sectors. I am confident that our new chairman, and the entire Foundation team, will carry on the efforts with a high level of energy."
Hamilton was named vice president of engineering for Boeing Commercial Airplanes in April 2016, and is responsible for engineering design, delegated compliance, certification and safety activities for all commercial airplane models, their derivatives and post-delivery upgrades. He also is responsible for identifying and implementing best practices, as well as ensuring that the right engineering skill sets are in place for designing, integrating, building, testing, certifying and delivering Boeing airplane products.
"It has been an honor and a pleasure to work with Ken Hylander during his tenure as chairman of the Board," said Foundation President and CEO Jon Beatty. "He helped lead the Foundation through a period of transition, and everyone at the Foundation and all of our members worldwide appreciate his support and hard work."
Beatty said he and the Foundation staff are looking forward to working more closely with Hamilton in the months ahead. "John has already shown himself to be a leader on the Board and I am excited about this next phase in the Foundation's development," Beatty said.
###
About Flight Safety Foundation
Flight Safety Foundation is an independent, nonprofit, international organization engaged in research, education, advocacy and publishing to improve aviation safety. The Foundation's mission is to connect,influence and lead global aviation safety.
Media Contact:
Frank Jackman
+1 703.739.6700, ext. 116
jackman@flightsafety.org