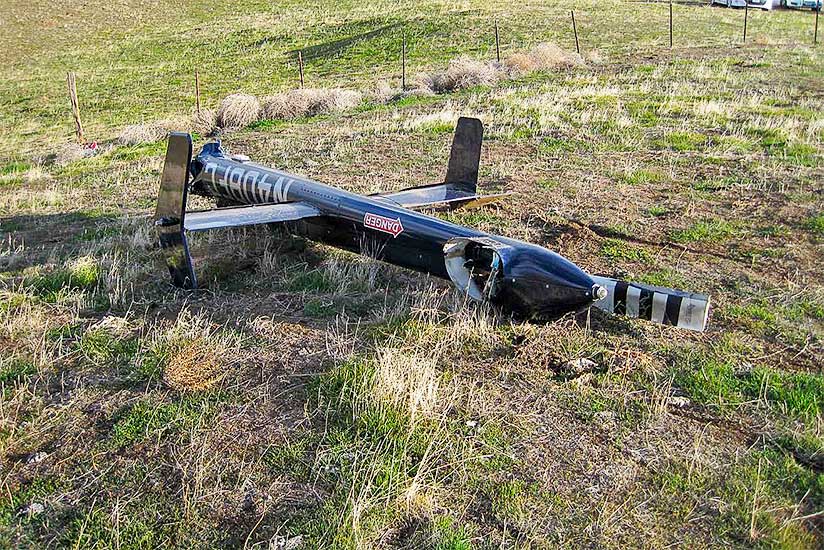 A glass cockpit Bell 407 — flown by an 11,415-hour pilot who had limited experience with the 407's advanced instrument display system and little recent night flying time — crashed near McFarland, California, U.S., during an attempted course reversal after encountering reduced visibility, the U.S. National Transportation Safety Board (NTSB) says.1
The emergency medical services (EMS) pilot was killed in the crash, at 1903 local time on Dec. 10, 2015, along with the patient, flight nurse and flight paramedic, and the helicopter was destroyed.
In its final report on the accident, the NTSB said the probable cause was the pilot's loss of control while trying to reverse course after entering an area of reduced visibility. A contributing factor was his lack of recent experience with nighttime operations.
The SkyLife helicopter was dispatched from Visalia, California, and flew to Porterville Municipal Airport to pick up a patient for transport to a hospital helipad in Bakersfield, California. While at Porterville, the pilot talked with the operator's check pilot, who told investigators that he had cautioned the accident pilot that weather conditions en route might be worse than the forecast 6 mi (10 km) visibility. The accident pilot had agreed and had responded that he would "carefully check the weather for the flight," the report said.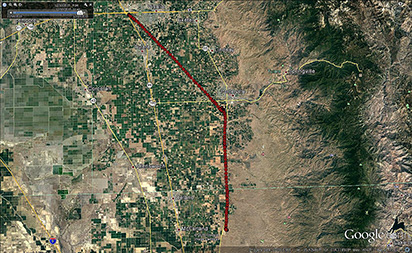 The helicopter left Porterville at 1849 local time in visual meteorological conditions (VMC). Recorded data from a handheld global positioning system (GPS) unit showed that the helicopter flew south, climbing until about 1902 to a maximum altitude of 1,554 ft, with groundspeeds between 124 and 144 mph (200 and 232 kph). At 1903, the helicopter began a descending left turn, with the rate of descent for the last three GPS data points at 2,210 fpm.
At 1927, the company dispatcher radioed the pilot but received no response. The dispatcher then contacted hospital personnel in Bakersfield, who said that the flight had not arrived. An alert was issued at 2034, and the crew of a sheriff's office helicopter located the wreckage at 2054. The pilot of the sheriff's office helicopter said that, during the search, he saw dense ground fog between 200 and 500 ft above ground level and flew through heavy rain, and the accident report concluded that it was "likely that the accident pilot encountered an area of reduced visibility due to rain or fog."
Instrument Ratings
The 49-year-old pilot held a commercial pilot certificate and a flight instructor certificate, both with helicopter and instrument ratings. After an unspecified time conducting air tours, primarily in the Airbus Helicopters AS350 BA, he was hired in 2012 by Rogers Helicopters; for the next three years, he conducted ferry flights and utility work, flying the Bell 206, McDonnell Douglas MD530 and MD500. In 2015, he was reassigned to the Bell 407 and given a special training authorization for EMS operations; the EMS flights were conducted by SkyLife, which the report described as a partnership between Rogers Helicopters and American Ambulance.
His most recent logbook showed that his 11,415 flight hours included 159 hours at night. The logbook showed that between August 2009 and the December 2015 accident, he had recorded 17.8 hours of night flying experience, four hours in actual instrument conditions and 55 hours of simulated instrument time, including 0.5 hours in the accident helicopter between May 30 and June 4.
Between May 28 and the accident date, the pilot accumulated 49 hours in the Bell 407, including 11 hours in the accident helicopter, and 15 hours of night flight, including two hours in the accident helicopter; those two hours included 0.8 hours of training on night vision goggles (NVGs). Under SkyLife policies, pilots were required to complete initial NVG training that included seven hours of ground training and five hours of flight training and to undergo subsequent recurrent training.
In the 90 days before the accident, the pilot had flown five hours at night, including 0.3 hours in the accident helicopter two days before the accident. The report noted that U.S. Federal Aviation Administration (FAA) records showed that the pilot had not flown a glass-cockpit helicopter until he had his first flight in the accident helicopter.
The pilot's wife and another company pilot told accident investigators that he had voiced concern about flying at night without NVGs.
His wife "stated that the pilot's night training was limited, but that, with his skill level, he was 'fine' with night flying," the report said. "However, he wasn't comfortable flying at night without the use of NVGs."
The report added that accident investigators believed that, because of the pilot's instrument ratings, he "most likely had the operational skills necessary to safely conduct a flight in a familiar helicopter."
His logbook, however, indicated that his lack of recent nighttime experience using the helicopter's advanced avionics "may have increased his susceptibility to spatial disorientation or loss of control during maneuvering flight," the report said.
VFR Helicopter
The accident helicopter, manufactured in 2000 and with an FAA type certificate that permitted operations under day or night visual flight rules (VFR), had been configured for air ambulance operations and for the use of NVGs. At the most recent annual inspection, in June 2015, the airframe had accumulated total time of 9,018 hours.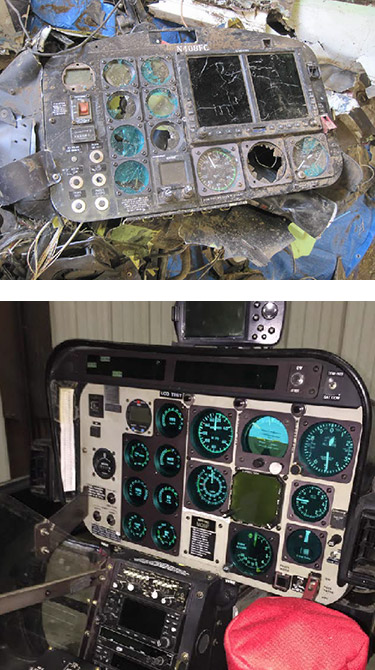 The helicopter was equipped with a Garmin G500H glass cockpit system, including a primary flight display and multifunction display, an attitude heading reference system and an air data computer, along with an analog airspeed indicator and an analog altimeter.
The report said that the accident pilot primarily flew another Bell 407, which was equipped with analog instruments.
Rogers Helicopters began operating in 1962, providing powerline construction flights and aerial firefighting. EMS operations began in 1991 in partnership with American Ambulance, which provided medical crewmembers and equipment for the flights while Rogers supplied the pilot and the aircraft. In addition to the wo Bell 407s, the EMS fleet included a Bell 430 and a Beech King Air.
SkyLife's policies and procedures manual says the pilot-in-command is "the final authority for safe operations" and gives him or her the authority "to not begin or continue a flight should safety be compromised." Another provision says that if medical personnel are not convinced of the safety of the flight, "it shall be canceled, regardless of existing weather conditions."
The Rogers Helicopters operations manual for Part 135 operations specified that weather minimums for nighttime operations within 25 nm (46 km) of the company's base required a ceiling of 500 ft above ground level (AGL) and 2 mi (3 km) visibility. For cross-country operations farther than 25 nm from the base, minimums increased to a 1,000-ft AGL ceiling and 3 mi (5 km) visibility. The document added, "If, during flight, unforeseen or unforecasted weather is encountered that is below operating VFR minimums, the pilot-in-command shall use his/her discretion in whether to abort the flight and return to Rogers Helicopters, Inc. or continue the flight under instrument flight rules with currently qualified personnel and approved aircraft."
Under its safety management system, Rogers Helicopters used a flight and ground risk analysis program to determine what risks would be involved with any given flight. The program called for pilots to complete a risk assessment worksheet that contained questions about various aspects of flight operations; a numeric value was assigned to each answer, and the program required flight to automatically be declined if the numeric value was 17 or higher.
Before the accident flight, the pilot's risk assessment worksheet noted "that the flight would occur at night and would involve a 'scene call' (dynamic factors)," the report said. "Also, the 'new pilot' box (static factor) and the 'rested 4+ hours' box (risk-reducing factor) were checked. In addition, the pilot noted that the highest obstacle would be at 1,293 ft, visibility would be 10 miles [16 km], and that he was 'healthy, rested and fit for duty.'" The resulting risk factor for the flight was 7, well below the "decline factor" of 17.
Fog Formation Was Likely
Recorded weather information for Porterville, 21 nm (39 km) at 1854, nine minutes before the crash, included visibility of 10 mi or greater, light rain and an overcast ceiling at 3,300 ft. At the time, recorded weather information for Bakersfield, 14 nm (26 km) south of the accident site, included visibility of 10 mi or greater and an overcast at 6,000 ft.
The National Weather Service (NWS) issued an area forecast at 1516 calling for areas of marginal (VMC) and instrument meteorological conditions (IMC) with mountain obscuration, clouds and precipitation. An Airmen's Meteorological Information advisory was in effect for IMC, mountain obscuration and moderate turbulence. After the accident, NWS meteorologists told accident investigators that conditions at the time and place of the accident were "conducive to fog," the report said, adding that the meteorologists had seen a Twitter post about fog near McFarland.
The accident report said that investigators found no evidence that the helicopter had struck wildlife or any foreign object and no indication of any problem with the helicopter that would have precluded normal operations.
Fatal HEMS Crash Analysis
Circumstances surrounding the accident were similar to some of the factors most often found in fatal night helicopter EMS (HEMS) crashes, according to a report published in the April 2019 issue of Aerospace Medicine and Human Performance.
The report, based on a study of 32 fatal HEMS accidents in the United States from 1995 through 2013, found that fatalities were more likely in nighttime accidents than in those occurring during daylight and that adverse weather presented the greatest risk to those flights. The study also found greatest risk in flights operated by pilots with relatively little experience in HEMS operations and unable to conduct the flight under instrument flight rules.
Notes
NTSB. Accident Report No. WPR16FA037 and related docket information. Dec. 10, 2015.
Aherne, Bryan B.; Zhang, Chrystal; Chen, Won Sun; Newman, David G. "Systems Safety Risk Analysis of Fatal Night Helicopter Emergency Medical Service Accidents."

Aerospace Medicine and Human Performance

Volume 90 (April 2019): 396–404.
---
All images: U.S. National Transportation Safety Board