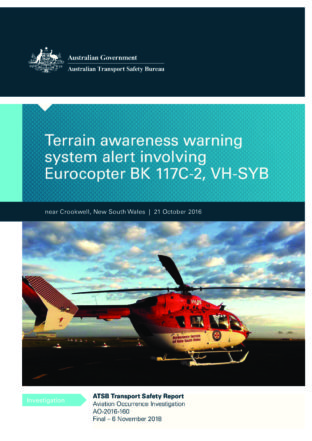 Helicopter operators must understand "the limitations and risks" of using night vision goggles (NVGs), especially in situations involving reflections or external light sources, the Australian Transport Safety Bureau (ATSB) said in a new report on a 2016 event involving the emergency medical services (EMS) crew of a Eurocopter BK117 C-2.
In the Oct. 21, 2016, event, the EMS crew was returning to its home base in Orange, New South Wales, on a night visual flight rules flight after completing an EMS mission. Both the pilot and the air crewmember (ACM) were wearing NVGs.
After takeoff from the Crookwell Medical helicopter landing site, the helicopter unexpectedly encountered low clouds, the ATSB report said, and the pilot began the operator's procedure for inadvertent entry into instrument meteorological conditions. At one point, she "inadvertently overcorrected the pitch angle to 15 degrees nose down, as well as allowing a slight roll to the left" — action that resulted in a caution alert from the enhanced ground-proximity warning system. The event resulted in no injuries or damage.
The ATSB concluded that the overcorrection probably was a result of "the surprising nature of the event." The pilot also was distracted by the reflection of the helicopter's red anti-collision light off a cloud, the report said.
"In response to the distraction, the pilot asked the ACM to switch the light off," the report said. "However, the ACM was not familiar (or required to be familiar) with the operation of the light switch and inadvertently switched on the strobe light, which exposed the pilot to bright white light reflecting off cloud while wearing NVG. Exactly when the strobe light was switched on, and whether it contributed to the unusual attitude, could not be determined."
After the event, the operator implemented several safety actions, including issuance of a clarification of its flight planning policy on operations involving instrument flight rules missions and use of a night visual imaging system (NVIS), and development of enhanced training and advisory materials.
"Although NVIS/NVG can significantly improve the quality and quantity of visual information available to pilots at night, the use of such devices also involves risk in some situations," the ATSB said. "This occurrence highlights the importance of ensuring that operators and pilots have robust processes for deciding when to conduct NVIS operations. It also serves as an example of the limitations and risks of NVIS operations when there are external light sources or reflections, and highlights the benefit of having a predetermined strategy for responding to degraded visibility conditions."