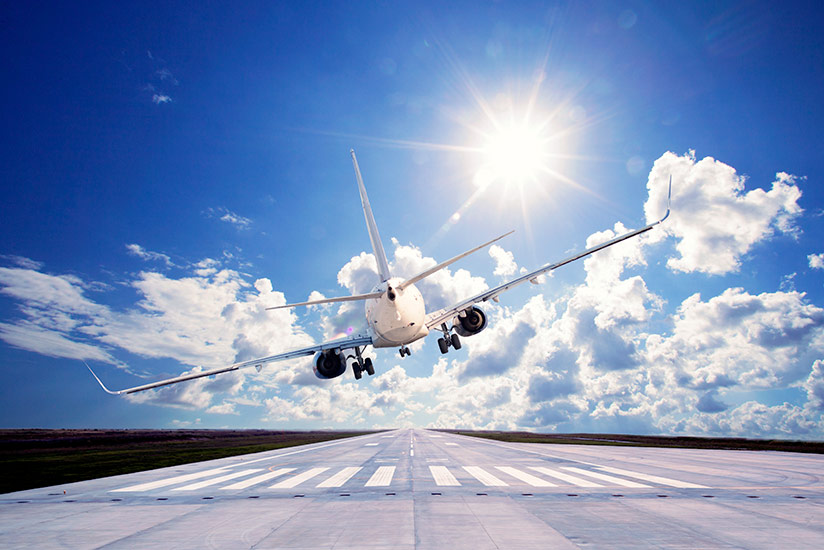 Warning of the risks of an unstabilized approach, the U.S. National Transportation Safety Board (NTSB) is urging pilots of all classes and types of airplanes to comply with standard operating procedures (SOPs) and industry best practices for stabilized approach criteria as well as missed approaches and go-arounds.1
In Safety Alert 077, "Stabilized Approaches Lead to Safe Landings," issued in March, the NTSB reiterated past warnings that failing to maintain a stabilized approach could lead to a landing with too much speed or too far down the runway — and ultimately to a runway excursion, loss of control or collision with terrain.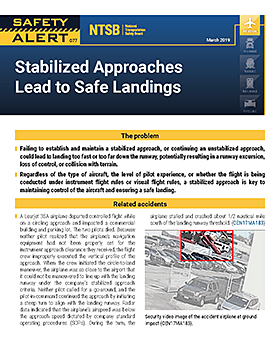 "Regardless of the type of aircraft, the level of pilot experience or whether the flight is being conducted under instrument flight rules or visual flight rules, a stabilized approach is key to maintaining control of the aircraft and ensuring a safe landing," the safety alert said.
As examples, the safety alert cited accidents involving airplanes ranging in size from a three-seat Piper J5A Cub to a Learjet 35A.
In the case of the Learjet, the airplane was on a circling approach to Teterboro (New Jersey, U.S.) Airport on May 15, 2017, when the flight crew lost control and the airplane crashed into a parking lot. Both pilots were killed in the crash, which destroyed the airplane ("More Training," ASW, 3/19).2
"Because neither pilot realized that the airplane's navigation had not been properly set for the instrument approach clearance they received, the flight crew improperly executed the vertical profile of the approach," the safety alert said. "When the crew initiated the circle-to-land maneuver, the airplane was so close to the airport that it could not be maneuvered to line up with the landing runway under the company's stabilized approach criteria."
Neither pilot called for a go-around, "and the pilot-in-command continued the approach by initiating a steep turn to align with the landing runway," the alert added, noting that the airspeed was below that called for in company SOPs. The airplane stalled during the turn and crashed 0.5 nm (0.9 km) south of the runway threshold.
The NTSB's final report on the accident cited as the probable cause "the pilot-in-command's (PIC) attempt to salvage an unstabilized visual approach, which resulted in an aerodynamic stall at low altitude."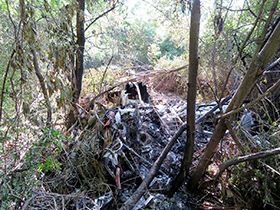 In a second example cited by the safety alert, a Piper PA-31 Navajo was destroyed in a controlled flight into terrain crash while on approach to University Park Airport in State College, Pennsylvania, U.S., on June 16, 2016. The pilot of the air taxi flight and his only passenger were killed, and the airplane was destroyed.
According to the safety alert, radar data showed that during the last two minutes of the flight, the Navajo's rate of descent increased from 400 fpm to more than 1,700 fpm, "likely as a result of pilot inputs," then decreased to 1,000 fpm before radar contact was lost.
Company SOPs called for a missed approach in cases in which the rate of descent during an instrument approach was greater than 1,000 fpm. During this approach, however, "the pilot chose to continue an unstabilized approach in instrument meteorological conditions, exceeding the maximum rate of descent permitted by the operator's stabilized approach criteria, and subsequently descended into trees and terrain." His decision to continue the approach was cited as the accident's probable cause.
Maintaining Stability
The safety alert included several broad recommendations for maintaining a stabilized approach, calling on pilots to comply with SOPs and industry best practices, including "a normal glidepath, specified airspeed and descent rate, landing configuration (flaps, gear, etc.), appropriate power setting, landing checklists and a heading that ensures only small changes are necessary to maintain runway alignment."
Other recommendations called for the effective use of crew resource management or single-pilot resource management, beginning with an effective approach briefing and including a thorough understanding of hazards, approach conditions, missed approach procedures and other critical elements of the approach.
The safety alert also said that flight crews should be able to withstand pressure from air traffic control and passengers to land the airplane as soon as possible, and to be immune to continuation bias — defined as an unconscious bias to continue with an original plan even after conditions have changed.
If an approach becomes unstabilized, an immediate go-around is required, the alert said.
"Never attempt to 'save' an unstabilized approach," the alert said.
The document cited several additional sources of information, including the "Stabilized Approach" briefing note from Flight Safety Foundation's Approach and Landing Accident Reduction Tool Kit.4
In that document, published in 2000, the Foundation's Approach and Landing Accident Reduction (ALAR) Task Force said that unstabilized approaches often result when a flight crew conducts an approach without sufficient time to plan and prepare.
The task force found that unstabilized approaches were causal factors in 66 percent of the 76 approach and landing accidents and serious incidents that occurred worldwide from 1984 through 1997.
Of the unstabilized approaches in which the airplane was low and slow, most involved controlled flight into terrain [CFIT] "because of inadequate vertical-position awareness," the task force said. In contrast, unstabilized approaches involving high and fast airplanes typically resulted in loss of aircraft control, runway overruns and runway excursions; they also contributed to poor situational awareness in some CFIT accidents. Flight-handling difficulties — which typically occurred in situations involving rushed approaches, attempts to comply with complex air traffic control clearances, adverse wind conditions and improper use of automation — were a causal factor in 45 percent of the events.
Guidelines that accompanied the "Stabilized Approach" briefing note called for an immediate go-around if an approach becomes unstable below 1,000 ft above airport elevation in instrument meteorological conditions or below 500 ft above airport elevation in visual meteorological conditions.
Go-Around Project
In 2017, the Foundation followed up the "Stabilized Approach" briefing note with the publication of the "Go-Around Decision-Making and Execution Project," which included new guidelines and concluded that flight crews in only about 3 percent of unstable approaches actually comply with existing go-around policies. Improved compliance could significantly reduce approach and landing accidents, according to the project's final report.5
Research and analysis for the project, conducted for the Foundation by The Presage Group,
found that the failure of flight crews to conduct a go-around was the primary risk factor in approach and landing accidents, as well as a primary cause of runway excursions.
The project was begun in 2011 to determine why go-around compliance was so poor, to understand the risks associated with go-arounds and to recommend ways of improving compliance and mitigating risks.
The research found that, based on an online psychological survey of 2,340 pilots that assessed nine psychological and social factors that make up aspects of situational awareness, "unstable approach pilots were significantly less aware of their emotional responses to threat, less able to anticipate risk, more overconfident in their ability to compensate for the instability and in less agreement with company SOPs, etc.," the report said.
Findings also showed that pilots who conducted unstable approaches indicated that they were more likely than pilots who conducted go-arounds to "feel crew pressure to land, to perceive a lack of crew support for a possible go-around decision, to feel discomfort in being challenged and in challenging others and to feel inhibited about calling for a go-around because of the authority structure in the cockpit," the report said.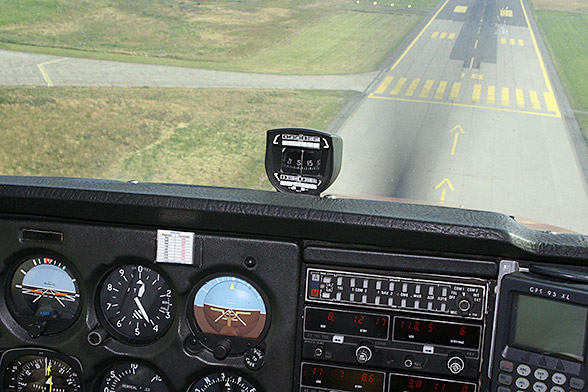 "Finally, compounding this risk profile are the findings that unstable approach pilots score lower on 'company support for safety' and that fewer than 50 percent … believed they would be reprimanded for continuing an unstable approach to landing, while, at the same time, maintaining that their company's criteria for when to execute a go-around are not realistic."
When the responses of pilots who had conducted unstable approaches were compared with responses from those who had conducted go-arounds, those in the unstable approach group "rated their flight outcomes less positively, believed less often that they had made the right decisions, believed much more strongly … that they should not have made the decisions they did and, finally, agreed more strongly that they had engaged in needless risk," the report said.
The report's recommended solutions called on the aviation industry to increase its awareness of the problem of noncompliance with go-around policies.
The report also proposed new stabilized approach and go-around guidelines calling for the establishment of three distinct approach gates:
As an aircraft reaches 1,000 ft above ground level (AGL), the final landing configuration should be selected. (Depending on the aircraft, this altitude could vary.)
At 500 ft AGL, the aircraft should be fully stable; and,
At 300 ft AGL and below, a go-around should be initiated "without hesitation" if an approach is unstable.
To achieve improvements, the report said, the industry must improve its awareness of the problem, and to accomplish this, "a shift in focus and cultural norms is required. … Significant improvement is attainable; however, the cultural shift will be much easier if the industry shifts collectively, as opposed to individual companies making changes on their own."
Notes
---
Featured image: © gece33 | iStockphoto
Safety alert cover and accident photo: U.S. National Transportation Safety Board
Cockpit view: © Gregory_DUBUS | iStockphoto