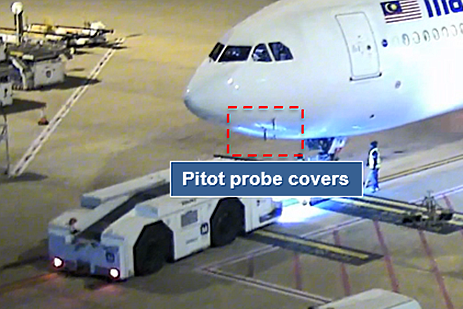 The Australian Transport Safety Bureau (ATSB), citing a July event in which the crew of an Airbus A330 took off from Brisbane Airport with covers still attached to the airplane's pitot probes, has issued a safety advisory calling for "rigorous processes" to ensure that the covers are removed before flight.
The investigation is continuing, but the ATSB said that the event involved a Malaysia Airlines A330, which landed at Brisbane airport at 2011 local time July 18, after a flight from Kuala Lumpur, Malaysia, and was scheduled for a 2320 departure on a return flight to Kuala Lumpur.
"Soon after the aircraft had landed, covers were placed on the aircraft's three pitot probes," the ATSB said in its preliminary report on the event. "Subsequent inspections during the turnaround did not identify the presence of the pitot probe covers, and they were not removed prior to the aircraft's departure."
During the takeoff roll, the flight crew detected airspeed anomalies, including red speed flags on both primary flight displays, the ATSB said, adding that the crew continued the takeoff and flew the airplane above 10,000 ft, then conducted several checklists and prepared for a return to the airport. They turned off the three air data reference (ADR) systems, which relied on pitot probe data and instead conducted the approach and landing with the backup speed scale, which used altitude information derived from global positioning system data.
Without the ADRs, the landing gear could not be extended normally, so the crew performed a gravity extension before conducting an overweight landing.
Subsequent inspection of the airplane found pitot covers on all three of the A330's pitot tubes, the ATSB said.
The preliminary investigation found that the airline did not routinely use pitot probe covers during turnarounds at Brisbane Airport and other locations. At Brisbane, the covers were recommended because of reports of wasp nests being built inside pitot probes, and a Brisbane maintenance support person placed covers on the probes during the turnaround.
"Due to miscommunication, the operator's certifying engineer was not aware of their fitment, and subsequent inspections during the turnaround by personnel from the operator and the ground handling service provider did not identify that they had been fitted," the ATSB said.
In Safety Advisory Notice AO-2018-053-SAN-003, the ATSB said that it "advises all operators that conduct flights to Brisbane Airport to consider the use of pitot probe covers and, if covers are used, ensure there are rigorous processes for confirming that covers are removed before flight."
The photo shows the incident aircraft about to be pushed back with the pitot covers attached. Source: Brisbane Airport Corp. Image modified by ATSB.