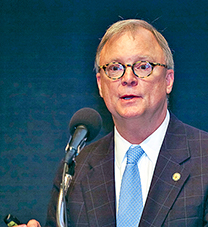 The U.S. Senate on Thursday confirmed President Donald Trump's nomination of Robert Sumwalt, an 11-year member of the National Transportation Safety Board (NTSB), to a two-year term as the NTSB's chair.
Sumwalt was first appointed to the NTSB in 2006. He has served as acting chair since the expiration of Christopher Hart's term as chair earlier this year.
Before he joined the NTSB, Sumwalt spent 32 years as a pilot, including 24 years with US Airways and Piedmont Airlines. After leaving the airlines, he managed a corporate aviation department. He also worked with the Air Line Pilots Association, International (ALPA) Human Factors and Training Group, and as a consultant to the U.S. National Aeronautics and Space Administration Aviation Safety Reporting System.
In addition, he has written numerous articles on aviation safety, including articles for Flight Safety Foundation publications.