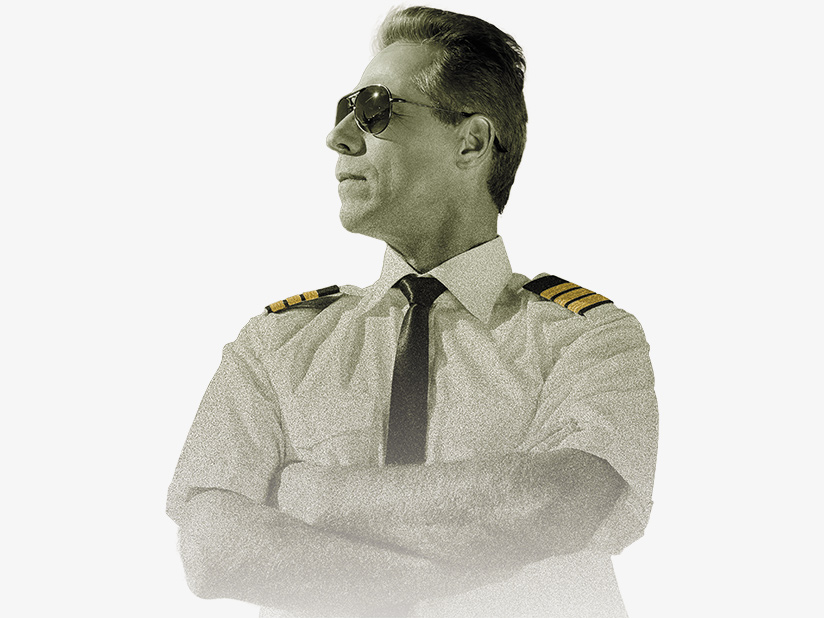 Business aircraft operators sometimes struggle to recognize valid signs that a well-regarded pilot has become unfit for duty, and to make a timely, safety-focused decision to intervene appropriately, says Quay Snyder, M.D. The crux of the issue for many companies is their lack of what he calls a carefully designed fitness for duty program. Recalling pilots and companies that have worked with him in his role as CEO of Aviation Medicine Advisory Service, he says one reason for the absence of such planning has been the lack of relevant, practical guidance in the United States.
Discussions about fitness for duty of pilots in the business aviation segment, as recently as a year ago, dwelled on anecdotes about aging pilots, Snyder said. But that orientation has proved less valuable from a flight operations perspective than current discussions about any individual who has become or might become a failing aviator, a term gaining traction in the business aviation and aviation medicine communities.
The broader term is helpful in considering interlocking challenges of recognizing significant problems in the cockpit and in the flight department; overcoming barriers to conducting a formal evaluation of a pilot's fitness for duty, such as provisions in a labor contract; conducting such an evaluation; and implementing interventions that will positively affect all concerned and ideally achieve the pilot's desired outcome, he said.
Snyder spoke at Flight Safety Foundation's Business Aviation Safety Summit (BASS 2015) in May in Weston, Florida, U.S. A related BASS presentation on legal-risk implications of business aviation companies' safety-based actions or inactions noted data-related impediments to an appropriate response and how to implement defensive policies and practices.
Defensive Fortifications
If a business aircraft operator opts to establish a fitness for duty program, the consequent legal-risk exposure likely would parallel the legal risks to its safety management system (SMS) as a whole, said some attendees who heard a related presentation at Flight Safety Foundation's Business Aviation Safety Summit (BASS 2015) in May in Weston, Florida, U.S.
Peter Stein, director of flight operations for Johnson Controls, an attorney and chairman of the FSF Business Advisory Committee, said no current U.S. law or regulation adequately protects aircraft operators against a court-ordered handover of proprietary/confidential safety data or information to plaintiffs' attorneys in a civil lawsuit. For example, regulatory protections cited in court after the Comair Flight 5191 accident (ASW, 11/07, p. 38) did not dissuade a judge from ordering the airline to disclose confidential reports and analyses from its aviation safety action program.1
"On the one hand [aviation safety professionals] are trying to encourage an open reporting culture that's nonpunitive and that helps drive these predictive safety systems," Stein said. "On the other hand, we have to balance significant legal risks … of a wrongful death or negligence lawsuit, the potential for … loss of reputation [and] business failure [as] the result of a bankruptcy that was triggered by a large money-damage award."
Given that this tension/interplay continues between safety and tort law (laws on compensation for wrongs and negligence, punishment of wrongdoers and deterrence of harmful activity), he proposed that operators consider four document-handling defensive fortifications to help preserve the just culture–based gains credited with reducing air transport accidents.
The defensive strategies that are as applicable to fitness for duty programs as they are to other SMS components are: close open loops by ensuring that commitments to address safety recommendations are either fulfilled or addressed to a reasonable degree; recognize the peril of mixing safety and cost discussions because the intent may be misconstrued in court or in news media; write company safety documents defensively in the objective language of risk analysis, for example, by not exceeding the authors' expertise, eliminating speculation and avoiding ambiguity of meaning, emotional terms and legal terminology outside of legal documents; and implement and adhere to a strict policy of defensible disposition of all paper and electronic safety-related documents that no longer serve any useful legal, business or practical purpose.
"If you properly retain and write safety data, you can actually use it to demonstrate that you're being thoughtful and reasonable. It supports your overall approach to quality and safety in your organization and, finally, that you're not trying to hide or ignore issues," Stein said. "So good legal risk management can actually be good safety management."
— WR
Note
In Snyder's experience, a robust fitness for duty program essentially enhances the safety of flight operations, optimizes the health of all members of a company's crews, preserves pilots' careers and reduces the legal risk to which operators can expect to be exposed (see "Defensive Fortifications").
Such programs are now "essential for safety because the pilot is the part of the system in aviation that is going to fail most frequently — not the aircraft. … We need to reduce the liability both for the company and for the pilot, and reduce the cost because the failing aviator is a drain on your resources," he told BASS attendees, advising them to incorporate fitness for duty into the safety management system (SMS).
Fitness for duty evaluations conducted by Snyder incorporate a few basic assumptions about each case presented. "A pilot who performs well in the cockpit doesn't suddenly deteriorate without an explanation. There has to be some reason why this person goes down. The second assumption, to make this all possible, is that you can identify people who have problems in a cooperative effort and, in most cases, get those people safely back to flying. … If you can't get them back, you've identified them and removed the hazard from the system."
Policies, procedures and remedial actions related to fitness for duty have complex legal aspects that will affect human resources, the aviation director and interactions among company pilots. "The aviation director [needs] accurate, timely, honest information from the fellow pilots so that whoever is doing the evaluation can target the evaluation, knows what they're looking for and [knows] where the potential weaknesses are," he said.
Implementing a program requires leadership support, including funding, staff time, patience and a well-defined, consistently administered process as opposed to an ad hoc solution, he said, adding, "[Companies] need to look at not only the aging pilot but also at the failing pilot, and have a process in place that would apply across all age groups. … A well-defined process that's either part of the pilot contract or part of the [human resources policy] minimizes the liability profile."
Failing Aviator's Perspective
Any pilot considering a fitness for duty program should be able to rely on legal and ethical handling of his or her situation with confidentiality, dignity and respect; to expect compatibility with the safety culture; and to find employment benefits protected by a disability policy and/or a loss of license insurance policy. This includes assurance at the outset that — if a treatable medical condition is discovered — the pilot's medical certificate will be protected, Snyder said.
"The overriding concern is safety. … When we worry about safety, then we're protecting the pilot's health and, in the long run, we're protecting the pilot's career. … The evaluation needs to be comprehensive. It's really unfair to the pilot to not look at everything because if you miss something, then the person is in a circumstance where they're either returned to fly and do poorly or they are not allowed to return to fly when they potentially had a treatable medical condition," he said. "Pilots that can't [return to flight duty] because they have a condition that's not going to get better … need to be able to exit gracefully [in terms of] their dignity and financially." Among compatible solutions, he cited some business aviation companies that have implemented a predetermined pilot retirement age that is mandatory or highly financially incentivized.
"All kinds of aviators can fail," he said, and those failures can create a special challenge for practicing crew resource management. "They may have a psychologic, a physical or a cognitive problem that they don't want to address or haven't addressed or, in most cases, they don't even recognize. … Everyone is potentially plagued with a dilemma if you have the person who is not performing up to standards. … The most important thing is that the failing aviator is a safety hazard for that particular aircraft, for that flight department, for that company, for the whole National Airspace [System]." Beyond that issue are effects on personnel scheduling reliability, efficiency, productivity and morale in the flight department.
With the pilot participating in a fitness for duty program, these issues diminish. "The pilot's health and longevity may be improved if a condition is identified and treated," Snyder said. "And in the long run, that protects their career rather than [leaving them] facing termination or some other occupational consequence."
Business Aviation Interests
Before 2015, the National Business Aviation Association in the United States had been validating the extent and nature of reports about this issue. In the months since the March 24 crash of a Germanwings Airbus A320 in the French Alps (ASW, 6/15), however, "people are associating pilot fitness for duty with significant problems in the aviation environment, and that's generated a lot of inquiries … hysteria and misinformation," Snyder said.
"There is no standardized evaluation system" for continuing fitness for duty outside of airline and military flight operations, Snyder said regarding the United States. "The [U.S. Federal Aviation Administration (FAA)] has no oversight on this beyond [medical flight tests related to authorization for special issuance of a medical certificate] after the initial certifications and ratings. You meet the practical test standards once in your life, you go get a type rating, [but] the FAA really isn't following you as long as you meet all the requirements such as the flight review in the training requirements, et cetera."
Interest in this risk within business aviation recently has been influenced by the U.S. National Transportation Safety Board's (NTSB's) 2015 NTSB Most Wanted List, which includes among 10 urgently recommended safety improvements "require medical fitness for duty" and "end substance impairment in transportation." He said that the second item reflects the NTSB's own research — such as its 2014 safety study titled Drug Use Trends in Aviation: Assessing the Risk of Pilot Impairment — on pilots' use of over-the-counter medications, prescription medications, illicit substances and alcohol (ASW, 10/14). For the study, researchers looked at the influence of each of these factors on fatal accidents, most in general aviation.
Moreover, to supplement the FAA's 2010 Medications and Flying brochure1 on medications and fitness for duty, Snyder recommended that operators and pilots review the latest list of medications and minimum times that pilots must wait after taking them to resume flight duty.2
An example of the FAA's evolving views of the subject has been its policy regarding pilots diagnosed with depression and successfully treated with antidepressant medicines called selective seratonin reuptake inhibitors. "Depressed people are cognitively impaired, and by prohibiting them from flying, you're having depressed people without treatment flying," Snyder said (ASW, 5/12). He also cited — as other examples of treatable impairments that can be implicated as underlying factors producing failing aviators — the morbidity, potential mortality and cognitive impairment caused by obstructive sleep apnea (ASW, 2/14) and substance abuse.
At BASS 2014, attendees had participated in a live electronic survey of their experiences and their preparation to respond to scenarios involving possible cognitive decline in pilots (ASW, 10/14). They considered the five top signs of deficiency in a pilot's fitness for duty to be the observed need for other pilots to "take up the slack" (cover duties) for the possibly impaired pilot; noncompliance with company standard operating procedures; altitude deviations; loss of situational awareness; and indicators of memory and cognitive problems.
Signs of Problems
In the past three years, Snyder's fitness for duty evaluations of 43 professional pilots revealed ways that colleagues could help identify problems on the aircraft, and opportunities for health care professionals to diagnose the most likely factors interfering with expected performance. In the category of pilots with a cognitive impairment, undiagnosed sleep apnea was the main cause. "Cognitive impairment was the common theme in … the overwhelming majority of them," he said. "We found that about one-third of the evaluations resulted in the discovery of a medical condition that was previously undiscovered and affected their cognition," he said. "Another one-third resulted in a psychological diagnosis. … Of that group [of two-thirds], about 70 percent have been returned to fly. … Some other pilots elected to voluntarily retire."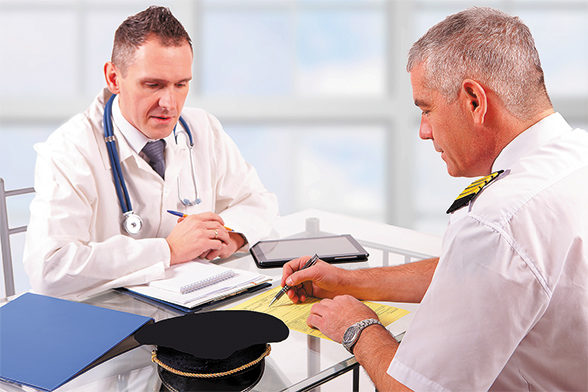 Medical conditions encountered sometimes were out of the ordinary. "In one case, we had a pilot who requested physical assistance," he said. "He was having problems rejecting a takeoff, pushing on rudder pedals, and he asked the other person to do it. He was evaluated and had early ALS [amyotrophic lateral sclerosis] — Lou Gehrig's disease — and was losing strength in his legs. So someone might be impaired [in the sense they] just can't perform the duties. It doesn't mean that they're a bad person or anything like that. They may have an undiscovered disease, and that's what we found in most of the cases."
He cited another pilot who became hypoxic every time he reached cruise altitude, although he showed no problems programming the flight management system before departure. His problems of confusion in cruise were traced to a paralyzed diaphragm.
"We found one person with heavy-metal poisoning. He lived near a mine and had lead and [another exposure to a toxic] substance. We got him treatment for it, and it took about a year; [when] his levels went down, his cognitive function went back up and he was successfully returned to fly," he recalled.
Inside a flight department, the first clear signs of possible pilot impairment might be training problems or in-flight difficulties adhering to standard operating procedures or interacting appropriately as a crewmember. "[The pilot of concern] might be on everyone's 'do not pair, I will not fly with this person ever again' list," Snyder said.
Abnormal use of sick leave, particularly on Mondays or after a period free of flight duty, or numerous self-reports of fatigue, possibly linked to an underlying medical condition or other issues, also might signal the need for the fitness for duty evaluation. In some cases, the indirect indication of suspected impairment during flight duty has been someone smelling alcohol on the pilot's breath or being alerted by unusual consumption of mouthwash.
Fitness for duty programs also recognize that psychological issues and extreme external stresses can detract significantly from safe performance of flight duties, he said, especially if the aviator cannot compartmentalize personal issues and prevent this distraction during a flight. "If family problems and other personal stressors are brought into the aircraft, they are intruding and [the] pilot potentially will be flying impaired or distracted," Snyder said.
Among the evaluated pilots, psychological issues included having difficulty compartmentalizing or otherwise managing life events because of post-traumatic stress syndrome connected to wartime experiences or connected to a traumatic aviation event they had experienced. Depression — sometimes manifested as a loss of desire to fly as a professional pilot — along with substance abuse and anxiety disorders were diagnosed in some cases.
False expectations about FAA rules and policies sometimes cause pilots to forego seeking help from a mental health or medical professional when this would have no effect on their medical certification, Snyder said. Examples include avoidance of psychological counseling, such as family and marital therapy; avoidance of diagnosis of hearing loss and its treatment with hearing aids; and avoidance of the employee assistance program at their company. "If you go through your employee assistance program, the clergy, or critical incident response program, that's not reportable [to FAA aviation medical examiners]," he said. Pilots also should be sure that they act only based on correct information regarding the latest FAA policies on treatment for common mental health issues such as depression and anxiety with medications (ASW, 5/12).
Threshold For Evaluation
Snyder advises business aircraft operators to predetermine the policies and procedures they will apply in deciding to initiate and to conduct an evaluation of a pilot in such situations with fairness to all concerned, sufficient expertise, anticipation of both desired and undesired outcomes, and awareness of potential legal liabilities." Many organizations don't realize that most of these situations involve a pilot's treatable medical condition that can be resolved," he said.
The human factors complexities and emotions involved in fitness for duty situations, however, also create barriers. There can be an initial cultural tendency of pilots to protect fellow pilots, to compensate for diminished performance of the fellow pilot, and to initially deny the seriousness of the problem. At the same time, the pilot at the center of concern "may not want to come forward because he or she fears the loss of their income … or their career," he said. "[They may say to themselves,] 'We need to get this mission done; they can't afford to lose me even if I'm not up to speed.' … But it's certified as a two-pilot aircraft for [a] reason, because there are responsibilities for both people. If you're trying to take on both people's responsibilities, you're diminishing your own effectiveness as well."
Denial among business aviation professionals in management is another barrier that a fitness for duty program must overcome, he said. Some managers avoid dealing with the situation because of envisioned effects on meeting operational demands or their lack of an explicit written authority, strategy and mechanism to act within the SMS, applicable regulations or their company's human resources policies.
In a similar way, reasons for inaction can extend to many legal issues involving medical privacy, age discrimination, rights of people with disabilities, loss of license insurance and employment-labor contracts, he added.
Instead of doing nothing when in doubt, company stakeholders should prioritize safety. "The National Airspace System is jeopardized by a weak pilot being out there," Snyder told attendees, reminding them that those at direct risk include the company principals in the back of the aircraft, the crewmembers and the entire flight department's reputation. 
Notes
See the subsection titled "Do Not Issue – Do Not Fly" of the agency's

2015 Guide for Aviation Medical Examiners,

 (Link is to 2017 guide).
Featured image: illustration, Susan Reed based on image of pilot, © Gstockstudio1 | Dreamstime
Pilot and doctor: © Monika Wisniewska | Adobe Stock