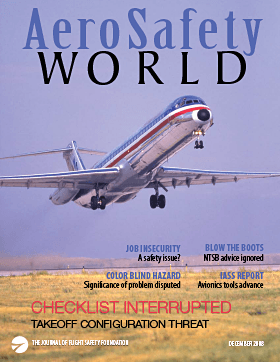 Entire Issue
AeroSafety World December 2008 68 pages [PDF 4.7M]
Features
Deadly Omissions 7 pages. [PDF 493K]
Human memory fails in predictable patterns that can be avoided by paying close attention to SOPs when distractions occur.
Watery Warnings 3 pages. [PDF 271K]
Helicopter operators should be required to do more to make passengers aware of life raft operations, the NTSB says.
Deice Disconnect 5 pages. [PDF 307K]
Myth and habit are hindering efforts to encourage pilots to cycle boots early and often in icing conditions.
Rising Stars 3 pages. [PDF 165K]
Safety may be the only thing inconspicuous about light-emitting diodes.
Applying the Safety Roadmap in Africa 3 pages. [PDF 289K]
Workshops and political persuasion are early but important steps.
Color Deficient? 4 pages. [PDF 409K]
Aviation medical specialists are trying to define the role of color vision in safe flight operations.
Repurposing Avionics 4 pages. [PDF 385K]
Flight deck upgrades, many via software, could unleash ADS-B, RNP RNAV and GPS on intractable aviation threats.
Insecurity Risk 4 pages. [PDF 174K]
Management can help prevent pilot job insecurity from affecting safety — probably.
Departments
Editorial Page | Data Gaps [PDF 70K]
Air Mail | Letters from Our Readers [PDF 163K]
Safety Calendar | Industry Events [PDF 69K]
In Brief | Safety News [PDF 155K]
Foundation Focus | Bob Vandel is Stepping Down [PDF 109K]
Leader Log | Pat Andrews [PDF 117K]
Foundation Focus | Introducing AeroSafety World in Chinese [PDF 143K]
Foundation Focus | Celebrating Excellence in Aviation Safety [PDF 165K]
Data Link | 2007 Accident Totals Improve for EASA Aircraft [PDF 439K]
Info Scan | Designing Failure Out [PDF 135K]
On Record | Wrong Direction [PDF 289K]